e Learning
Self-pacing
Users learn at their own pace; Learner can control What to learn, When, Where, and How.
It reduces stress and increases satisfaction.
You can revise a topic as many times, fast or slow, as you like, until you understand it.
On-demand availability
Enables students to complete training conveniently at off-hours or from home.
Interactivity
Engages users, pushing them rather than pulling them through training.
Flexibility
E-learning has the advantage of taking class anytime anywhere.
E-learning delivers teaching material and learning activities in a flexible format.
Potential to develop tailored personalized learning resources (the adaptive curriculum).
Marksman e Learning Services and Offering -
Consulting
Application Development
Implementation
Content Development
Content Packaging
Learning Technology
LMS
Assessment
Virtual Classroom Solution
Content Development
Marksman Custom Content Creation follows the complete Content development life cycle and Marksman creates the quality "Rich Content Repository"
These are the following areas where "Marksman" can help you to develop Quality Contents based on your need and create the Rich Content Repository for your organization.
What we can do?
Content Creation
Content enhancement
Content Conversion
E-learning Content
Mobile Leaning Content
WBT, CBT, Rich media Content
Offshore content development
Online courseware
Training outsourcing
Content for LMS
Contents based on AICC, SCORM standard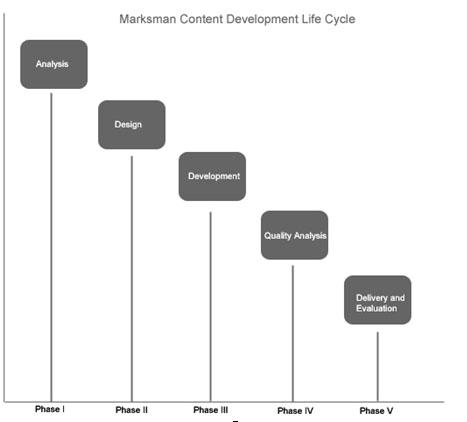 Analysis
Understand Customer need and Process
Set Up Marksman Team for the proposed project
Create the Proposed Project Plan
Get the Proposed Plan approved from the client
Design
Finalize Instruction Strategy
Create a story board for the proposed project
Get Sign off on the proposed Storyboard
Development
Create Media Element and Template for the Proposed Project
Get Sign Off on the above Template
Integrate the Course
Quality Analysis
Content Check
Functionality Testing
Delivery and Evaluation
Delivery Course
Get Client Sign off the developed project
Archive Course
Evaluate Feedback on the developed Course
Content Packaging
Marksman gives you the new age learning experience with CBT (Computer based training) and WBT (web based training) to any time anywhere learning. We develop the CBT and WBT as per your organization need, and Marksman develop these CBT / WBT as per AICC, SCORM & Section 508 standards and also help in Tin Can API.
Marksman provides the high end content packaging and content re-structuring services:
Instructor led Training (ILT) to Computer-based Training (CBT)
CBT to Web-based Training (WBT)
ILT to WBT
Blended Learning (mixture of ILTs, CBTs, and WBTs for a combined learning
Multimedia Contents
eLearning Content - TinCAN API